Latest News:
---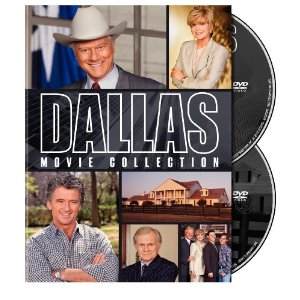 DALLAS: THE MOVIE COLLECTION was released on April 12, 2011.
Features all three reunion movies, The Early Years, (a prequel), J.R. Returns and War of the Ewings in a 2 disc collector DVD set.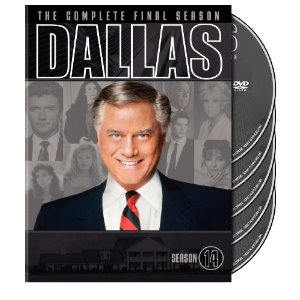 DALLAS: THE COMPLETE FOURTEENTH SEASON was released on Jan. 18, 2011.
In its 14th and final season, Dallas goes out in a gusher of murders and kidnappings, lies and blackmail, seductions and schemes. J.R., Bobby and Cliff – three original characters so big only Big D could hold 'em – are at the heart of the action, surrounded by oil-country folks who joined the series over the years and a passel of dynamic newcomers. And of course there's that Dallas hallmark, a white-knuckle cliffhanger. This time it's a two-part finale inspired by It's a Wonderful Life in which J.R.'s guardian from the great beyond shows the Lone Star State's meanest rattler what the world would have been without him. Think everything's for the better? Then you're in for some surprises!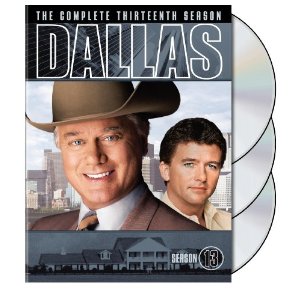 DALLAS: THE COMPLETE THIRTEENTH SEASON was released on April 13, 2010.
For J.R. Ewing, Season 13 is as unlucky as a steer at a Texas barbecue. He starts by lying and cheating Ewing Oil to the brink of destruction and ends by kicking and screaming in a psychiatric hospital. In between he tires of his pretty young wife, seethes while Cliff Barnes's political star rises and bumps into a past he didn't know he had. Meanwhile, Clayton and Miss Ellie investigate a multiple-murder mystery, folks from seasons past unexpectedly return to stir up trouble and Bobby stays busy removing J.R.'s knives from his back, chasing after a Pam look-alike, and bringing a new Mrs. Ewing to Southfork. Y'all come 'round and meet the happy couple!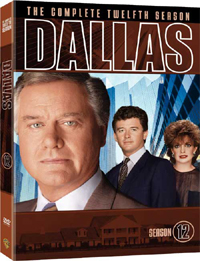 DALLAS THE COMPLETE TWELFTH SEASON was released in the USA and Canada on Jan. 19, 2010.
This will be a 3-disc set with double-sided "DVD-18's", running 1378 minutes for 26 episodes. Video is full frame, and audio is English mono.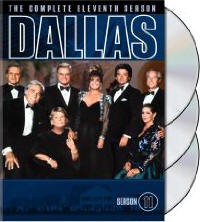 DALLAS THE COMPLETE ELEVENTH SEASON was released in the US and Canada on April 21, 2009. The three disc set includes all episodes from the eleventh season.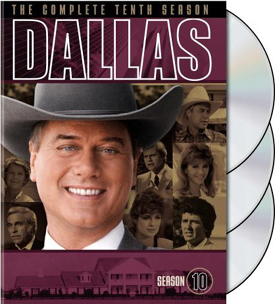 DALLAS THE COMPLETE TENTH SEASON was released in the US and Canada on Jan. 13, 2009. The three disc set includes all episodes from the tenth season.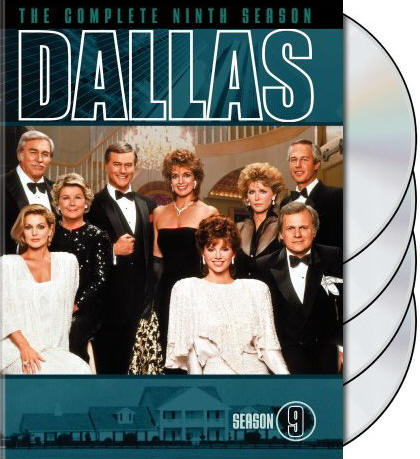 DALLAS THE COMPLETE NINTH SEASON was released on July 15, 2008. It will be released as a four disc set, including a featurette extra "Seasons of Change". The featurette looks a the impact of the surprise ending scene of the ninth season, on this season and and other seasons. It also includes at look at the departure and of Barbara Bel Geddes as the matriarch of the Ewing clan.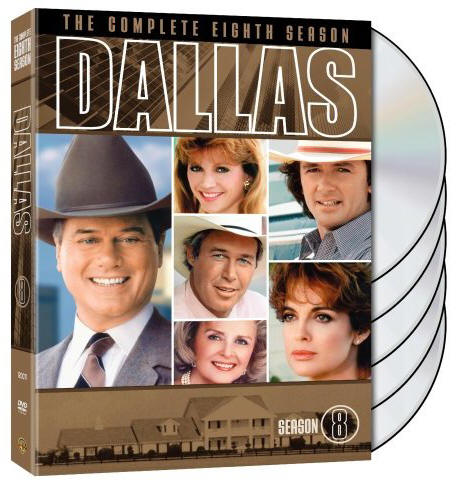 DALLAS THE COMPLETE EIGHTH SEASON was released on Feb. 12, 2008. The five disc set includes all episodes from the eighth season.
Season 8 brings a new cousin Jamie Ewing, a blonde, blue-eyed little cupcake with a big, fat claim on the oil empire. And it brings a new face: Oscar Academy Award winner Donna Reed stepping gracefully into Miss Ellie's high heels while an ailing Barbara Bel Geddes recovers. And, of course, it brings a gusher of high-tension, high-finance drama: three corpses, one murder trial, weddings, breakups, adultery, medical traumas, kidnapping, lies, long-forgotten secrets and sudden wealth. That's not all, not by a Texas Longhorn shot. The season ends with that dynamic Dallas classic, a wow-did-you-see-that cliffhanger.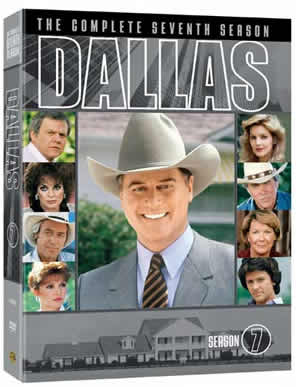 DALLAS THE COMPLETE SEVENTH SEASON was released on July 31, 2007. The five disc set includes all 30 episodes, as well as "The music of Dallas", an all new featurette that reveals the Emmy award winning techniques of composer Bruce Broughton and the story behind the unforgettable theme by composer Jerrold Immel.
When the Dallas theme song starts to play audiences everywhere know they are in store for scandalously hot television drama. Dallas: The Complete Seventh Season arrives on DVD July 31, 2007 from Warner Home Video with an all-new featurette about the story behind the iconic theme song entitled "The Music of Dallas." TV's favorite oil tycoon J.R. (Larry Hagman) returns in the seventh season for more lying, cheating and bed hopping in the five-disc DVD collector's set which features all 30 1-hour episodes and is priced to own at $39.98 SRP.
In Dallas: The Complete Seventh Season, Southfork in flames is the perfect premise for more hot-blooded romance and sizzling schemes. Pam and Bobby split up while other folks team up including Miss Ellie with Clayton Farlow and Sue Ellen with a hunky Dallas darlin' young enough to be her son. Meanwhile, it seems the brothers Ewing may be sharing control of Ewing Oil, guiding the company to more and mightier millions, but sharing makes J.R. as happy as a wildcatter drilling dust. Season Seven is a web of backroom deals, courtroom drama, jealousy and treachery, blackmail and bourbon.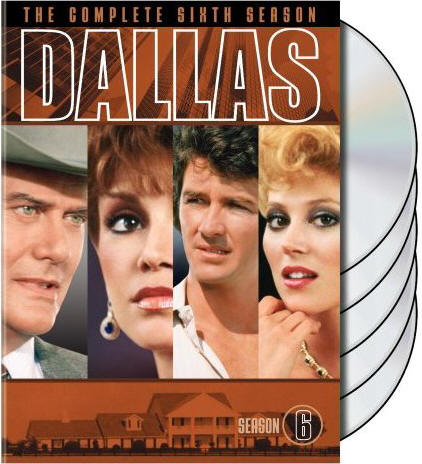 DALLAS THE COMPLETE SIXTH SEASON was released in the US and Canada on Jan. 30, 2007. All 28 episodes are featured on five discs, along with "Power and Influence: The Dallas Legacy" featurette exploring the show's pop-culture influence then and now. The week of Feb. 4, 2007 it was the # 3 best-selling TV DVD.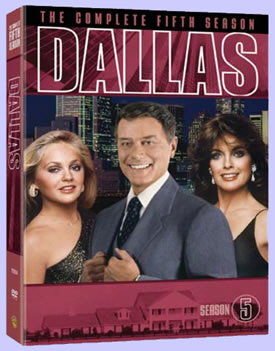 DALLAS THE COMPLETE FIFTH SEASON was released on DVD on Aug. 1, 2006.
Will Cliff Barnes live or die?
The saga of the wealthy Ewing family continues in its fifth season -
Full of sibling wars, adultery, reconciliation and power struggles. In this season, the Ewing Family is struck by tragedy when Jock is presumed dead in a plane crash , J.R. schemes to gain ultimate power over the Ewing business and battles for custody of his son and ultimately tries to win Sue Ellen's love back. Bobby adopts Kristin's baby and gets caught up in a murder charge. Cliff Barnes life is on the line.
Extras - A Living Landmark, A Tour of the Real Southfork Ranch - Thousands of people around the world visit the Ewing Family home every year. Get the guided tour from the Southfork reps and find out behind the scenes Southfork secrets.
Commentary - Goodbye, Cliff Barnes
The fifth season of Dallas features some of the best episodes of the series. The initial ones center around Sue Ellen's attempt to leave J.R. once and for all. With Dusty and Clayton Farlow by her side, Sue Ellen (Linda Grey) begins a new life at the Southern Cross ranch in San Angelo. The ensuing war between the two over baby John Ross makes for some of the most enjoyable prime time drama ever produced. The onscreen chemistry between Hagman and Grey is simply magic. They manage to portray a believable love-hate relationship between a husband and wife, and it's one of the ongoing conflicts which launched the show to the top of the Nielsen ratings for almost 14 years (making it the longest running prime time drama in television history). For the week ending Aug. 6, 2006 it was TV DVD's number 7 best seller.

Below is a list of episodes from Season 5 of Dallas:
Episode 78 (Missing Heir) Air Date: 10-09-1981
Episode 79 (Gone, But Not Forgotten) Air Date: 10-16-1981
Episode 80 (Showdown at San Angelo) Air Date: 10-23-1981
Episode 81 (Little Boy Lost) Air Date: 10-30-1981
Episode 82 (The Sweet Smell of Revenge) Air Date: 11-06-1981
Episode 83 (The Big Shut Down) Air Date: 11-13-1981
Episode 84 (Blocked) Air Date: 11-20-1981
Episode 85 (The Split) Air Date: 11-27-1981
Episode 86 (Five Dollars a Barrel) Air Date: 12-04-1981
Episode 87 (Starting Over) Air Date: 12-11-1981
Episode 88 (Waterloo at Southfork) Air Date: 12-18-1981
Episode 89 (Barbecue Two) Air Date: 01-01-1982
Episode 90 (The Search) Air Date: 01-08-1982
Episode 91 (Denial) Air Date: 01-15-1982
Episode 92 (Head of the Family) Air Date: 01-22-1982
Episode 93 (The Phoenix) Air Date: 01-29-1982
Episode 94 (My Father, My Son) Air Date: 02-05-1982
Episode 95 (Anniversary) Air Date: 02-12-1982
Episode 96 (Adoption) Air Date: 02-19-1982
Episode 97 (The Maelstrom) Air Date: 02-26-1982
Episode 98 (The Prodigal) Air Date: 03-05-1982
Episode 99 (Vengeance) Air Date: 03-12-1982
Episode 100 (Blackmail) Air Date: 03-19-1982
Episode 101 (The Investigation) Air Date: 03-26-1982
Episode 102 (Acceptance) Air Date: 04-02-1982
Episode 103 (Goodbye, Cliff Barnes) Air Date: 04-09-1982
Also coming out on Aug. 1, 2006 is a packaged set of the first five seasons in a 19 disc set.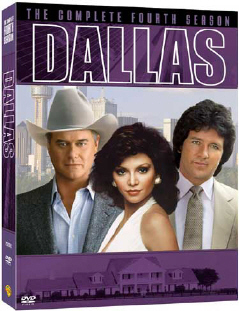 DALLAS THE COMPLETE FOURTH SEASON was released on DVD on Jan. 24, 2006.
Bobby Ewing rushes back to Dallas after he and Pamela are stopped on the highway - they had intended to leave the city for good! - by a police copter, whose uniformed passengers inform Bobby that his brother had been shot! J.R. Ewing lies in the hospital, near death from gunshot wounds, as Bobby takes control of Ewing Oil and the list of suspects grows long: Sue Ellen. Cliff Barnes. Marilee Stone. Vaughn Leland. Members of the Cartel. Alan Beam. Dusty Farlow. Jock. Miss Ellie.

Yes, J.R. was such an S.O.B. that even his parents were suspected of trying to take him out! Find out who pulled the trigger, and why, on January 24th when Dallas - The Complete 4th Season arrives on DVD.

This 4-disc set features 23 episodes including the 2-part season premiere, "No More Mister Nice Guy," the mystery-solving episode so properly titled as "Who Done It?," the thrilling two-parter "End of the Road," the multi-episode feud between Jock and Miss Ellie which came to a boil in "Ewing vs. Ewing," and the unraveling of yet another scheme with the season-ending cliffhanger, "Ewing-Gate". Guests you'll see during this season include Janine Turner, Joanna Cassidy, Richard Herd, Harry Carey Jr., Anne Francis, Stacy Keach, Sr., Noble Willingham, Jerry Hardin, Susan Howard, and Lance Guest.

As an extra added bonus, Warner is including the much-asked-for Dallas Reunion: The Return to Southfork special which aired in November 2004, as the main cast of the series gathered one more time at the famous ranch and house that the Ewing Clan lived in for 14 seasons. Hosted by Larry Hagman ("J.R. Ewing"), he and the rest of the gang reminisce, show bloopers, talk about behind-the scenes stuff and even air Larry Hagman's home movies! This is something the fans have been craving to get on DVD, and Warner could not have choosen a better season set to include it with!

Find out the answer to the most exciting cliffhanger in TV history when Dallas - The Complete 4th Season is released. List price is $39.98, and we've got your very first look at the box art for this must-have set!
Release Schedule for Dallas Season Three:


DALLAS
DVD REGION:
United States Canada
Aug. 9, 2005
United Kingdom
TBA
Rest of Europe
Oct., 2005

DALLAS: THE COMPLETE THIRD SEASON was released on DVD August 9, 2005.
It was the Shot Heard Around the World and the Question on Everybody's Mind …"WHO SHOT J.R.?"
DALLASThe Complete Third Season
Featuring One of the Most Watched Episodes in TV History
Available on DVD August 9 from Warner Home Vide
Fans get ready for more deception, recklessness and greed, Ewing-style, with the biggest cliffhanger of all time, on DVD. DALLAS is back and the battle over power and wealth is in full force. Watch the final episode that left millions of television viewers asking … "Who shot J.R?", when Warner Home Video presents DALLAS: THE COMPLETE THIRD SEASON on August 9, 2005 in a five-disc DVD collector's set.
Dallas: The Complete Third Season DVD special features include:
"Who Shot JR?" : a never-before-seen featurette, documenting the groundbreaking use of the season-end cliffhanger and detailing the length the series' creators went to in keeping the surprise ending a secret. Interviews include series creator and key cast members.
Audio commentary on "A House Divided" and "Sue Ellen's Choice" by Linda Gray and Patrick Duffy.
With all 25 hugely entertaining episodes and a never-before-seen documentary, this season is priced to own at $39.98 SRP.
Fans in Europe will have the Season 3 release in October 2005.
DALLAS THE COMPLETE FIRST AND SECOND SEASON was released on Aug. 24, 2004.

Release Schedule for Dallas Season One: (Mini Series and Season One Box Set):


DALLAS
DVD REGION:
United States Canada
Aug. 24, 2004
United Kingdom
Nov. 8, 2004
Rest of Europe
Nov. 8, 2004

Warner Brothers Announcement:
Grab Your 10-Gallon Hat and Head for Southfork where Power, Wealth, Sex and J.R. Ewing Await
DALLAS:
THE COMPLETE FIRST AND SECOND SEASONS

Warner Home Video presents an American classic and one of the longest-running primetime series in the history of television on DVD August 24! Nominated for 17 Emmy® Awards & 14 Golden Globe® Awards.

BURBANK, CA (May 11, 2004) – See how all the scandal and secrets from one of television's longest running primetime dramatic series first began! It's classic American television and one of the most popular series in history where every week millions of viewers got their fill of deceit, intrigue, sex, power, glorious extravagance and lots of 10-gallon hats. Warner Home Video presents Dallas: The Complete First and Second Seasons on August 24, 2004 in a rootin' tootin' five-disc DVD collector's set priced at $49.98 SRP.

Dallas stars Larry Hagman as the all-powerful J.R. Ewing (named one of "TV's 50 Greatest Characters" by TV Guide), whose pursuit of money and clout knows no limits, along with Patrick Duffy, Victoria Principal, Charlene Tilton, Linda Gray, Barbara Bel Geddes, Jim Davis, Steve Kanaly, and Ken Kercheval as Texas sons and daughters whose lives revolve around oil, family and power. Over the years, Dallas also featured Priscilla Presley, Donna Reed and Dack Rambo. Premiering in 1978, Dallas soon had all of America glued to the tube and became one of the top five longest-running primetime series in the history of television. Over its 14 seasons, Dallas garnered 17 Emmy nominations and four wins, 14 Golden Globe nominations and one win, and was the #1 or #2 rated network series for five consecutive seasons.

A must-have for every classic TV collection, Dallas: The Complete First and Second Seasons includes all 29 episodes from the first and second seasons and DVD special features including:

- "Soaptalk Dallas Reunion" featurette with Larry Hagman, Patrick Duffy, Linda Gray and Charlene Tilton

- Audio commentary on the series pilot and other episodes featuring Larry Hagman, Charlene Tilton, and creator David Jacobs

"We are thrilled to bring Dallas, the most-watched television series of its time to DVD," said Christine Martinez, WHV Vice President, Non-theatrical Franchise Marketing. "Dallas is landmark television at its best and one of the most requested series in our library showing that the market continues to expand in the TV-on-DVD category with WHV leading the way."

BASICS
$49.98 SRP
Street Date: August 24, 2004
Languages: English
Subtitles: English, French, Spanish
Run Time: 1352 minutes (over 22 hours)
---
TV LAND AWARDS
On March 19, 2006 the 4th Annual TV LAND Awards, presented the cast of DALLAS with their Pop Culture Award, which was then broadcast on March 22 on both TV Land and Nick at Nite.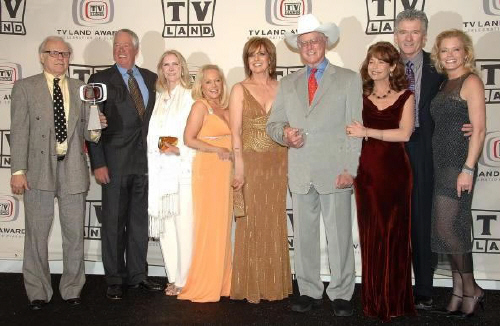 POP CULTURE AWARD This award is presented to a show that has crossed the line from television series to pop culture phenomenon. This year's honoree is Dallas. John Schneider and Tom Wopat presented this award to Larry Hagman, Patrick Duffy, Linda Gray, Charlene Tilton, Steve Kanaly, Susan Howard, Sheree Wilson, Ken Kercheval and Mary Crosby.
---
CBS Announces New Dallas Reunion Special
Dallas Reunion: Return to Southfork
A DALLAS reunion aired on Sunday, November 7, 2004 on CBS, and was re-broadcasted on Saturday, Nov.13, 2004. Many of the original cast members were reunited at Southfork in early October were they discussed filming the original television series.
---
The Hollywood Reporter
The TV Shows that went the distance
TV MILESTONES COLLECTORS EDITION
SEPTEMBER 9, 2004

From 1947 to 2004 almost 300 scripted dramas and comedies have hit the one hundredth episode milestone. Some have hit 500 or more.
On Sept. 9,2004 The Hollywood Reporter celebrated television's rich history in a collectors' stand-alone edition.
Decade-by-decade the issue looked at the shows, - including DALLAS - the stars, the executives and producers that have created thousands of hours of viewing pleasure.